CSTB - Impacts des inondations sur le cadre bâti et ses usagers, rapport final
A current trend tends to pass river flood management from "all protection" (damming of rivers) to the creation of expansion fields, where possible. Nevertheless, some buildings will remain partially or totally immersed as it is the case today, for any kind of flood. This report explores means of prevention / protection at the scale of buildings. For the most part, these means are relatively limited in numbers and have been known for long. They all have their own scope and limits for each flood context. This situation calls for an approach at the territory scale in order to select the most appropriate solutions according to each context. Hydraulic projects should aim to moderate flood hazard at the buildings scale and especially in urban areas. Examination of these solutions falls under complementary skills to those of CSTB, the expertise of which is focused at the building scale.
Une évolution en cours tend à faire passer la gestion des crues du " tout protection " (endiguement des cours d'eau) à la création de champs d'expansion, là où cela est possible. Malgré tout, des bâtiments resteront immergés partiellement ou totalement comme c'est le cas aujourd'hui, qu'il s'agisse de crues ou d'autres types d'inondation. Ce rapport explore les moyens de prévention/protection à l'échelle des bâtiments. Ces moyens, connus de longue date pour la plupart, sont relativement limités et ont chacun leur portée et leurs limites dans chaque contexte d'inondation. Cette situation plaide pour une approche adaptée à chaque situation après analyse à l'échelle du territoire concerné afin que des aménagements hydrauliques modèrent l'aléa à l'échelle des bâtiments et en particulier des zones urbaines. L'examen de ces solutions relève de compétences complémentaires de celles du CSTB, dont le regard porte essentiellement sur les bâtiments.
Fichier principal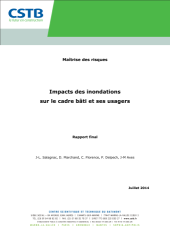 MRS_Bilan_rech_2010-2013_projet-3_Inondations.pdf (2.45 Mo)
Télécharger le fichier
Origin : Files produced by the author(s)