La temporalité comme critère pour les théories de la conscience. Des "entités actuelles" d'Alfred North Whitehead comme principe de tri.
An evolutionary phenomenon relating to the internal perception of time in the bodies of organisms is generally referred to as the biological clock. This term refers to the organism's own system for keeping track of time. There are various biological clocks, tuned to external phenomena, such as the circadian clock, by which an organism adapts its physiological processes to a complex system of circadian synchronization in the brain and peripheral cells. Hourglass and oscillatory biological clocks are all observable and measurable because they are related to the functioning of biological systems in mammalian organisms. However, the transmutation of the micro-temporal sequence of brain and cell activities into macro-activities of subjective experiences and memories over long periods of time seems inexplicable by the scientific method.
Un phénomène évolutif relatif à la perception interne du temps dans le corps des organismes est généralement appelé horloge biologique. Ce terme désigne le système propre à l'organisme pour tenir compte du temps. Il existe diverses horloges biologiques, réglées sur des phénomènes extérieurs, comme l'horloge circadienne par laquelle un organisme adapte ses processus physiologiques à un système complexe de synchronisation circadienne dans le cerveau et les cellules périphériques . Les horloges biologiques de type sablier et les horloges oscillatoires sont toutes observables et mesurables car elles sont liées au fonctionnement des systèmes biologiques des organismes mammifères. Cependant, la transmutation de la séquence micro-temporelle des activités cérébrales et cellulaires en macro-activités d'expériences et de souvenirs subjectifs sur de longues périodes semble inexplicable par la méthode scientifique.
Fichier principal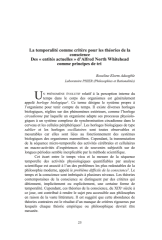 Article Roseline Elorm Adzogble.pdf (786.42 Ko)
Télécharger le fichier
Origin : Publisher files allowed on an open archive