Les poissons cryptobenthiques de la baie d'Agay (Var)
Cryptobenthic fishes are bottom dwelling species that are easily overlooked because of their small size, their colouring similar to the surrounding, or because they live hidden. These species are also often difficult to identify. For these reasons, the diversity of cryptobenthic fishes is one of the least known of the marine world. This Notebook presents the observations of cryptobenthic fishes made in the Bay of Agay, in the French Mediterranean, by a group of naturalist divers, in particular during two missions targeting these species in 2021. Notably, we describe the first records for France of two species of gobies (Buenia massutii and Speleogobius llorisi), the first mention of Gobius gasteveni and the second of Lebetus guilleti for the French Mediterranean. These missions demonstrate that the marine cryptobenthic ichthyofauna of our territory is still understudied, including in the coastal zone accessible to recreational diving.
Les poissons cryptobentiques regroupent les espèces de fond qui passent facilement inaperçues à cause de leur petite taille, de leurs couleurs proches de celles de l'environnement, ou parce qu'elles vivent cachées. Ces espèces sont aussi souvent difficiles à identifier. Pour ces raisons, la diversité des poissons cryptobentiques est l'une des plus méconnues du monde marin. Ce cahier présente les observations de poissons cryptobenthiques effectuées dans la baie d'Agay, en Méditerranée française, par un groupe de plongeurs naturalistes, en particulier lors de deux missions, menées en 2021. Nous y décrivons notamment les premières observations en France des deux espèces de gobies (Buenia massutii et Speleogobius llorisi), la première mention de Gobius gasteveni et la seconde de Lebetus guilleti pour Méditerranée française. Ces missions démontrent que l'ichtyofaune marine cryptobenthique de notre territoire demeure sous-étudiée y compris dans la zone littorale accessible à la plongée loisir.
Fichier principal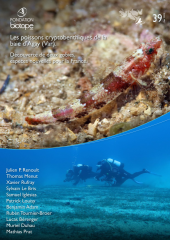 cahier-de-la-fondation-39.pdf (13.92 Mo)
Télécharger le fichier
Origin : Explicit agreement for this submission
licence : CC BY NC - Attribution - NonCommercial